Kazuto Sakata has a spot in the All-Japan Tsukuba 5th Race and Showa Denki Group will be giving support!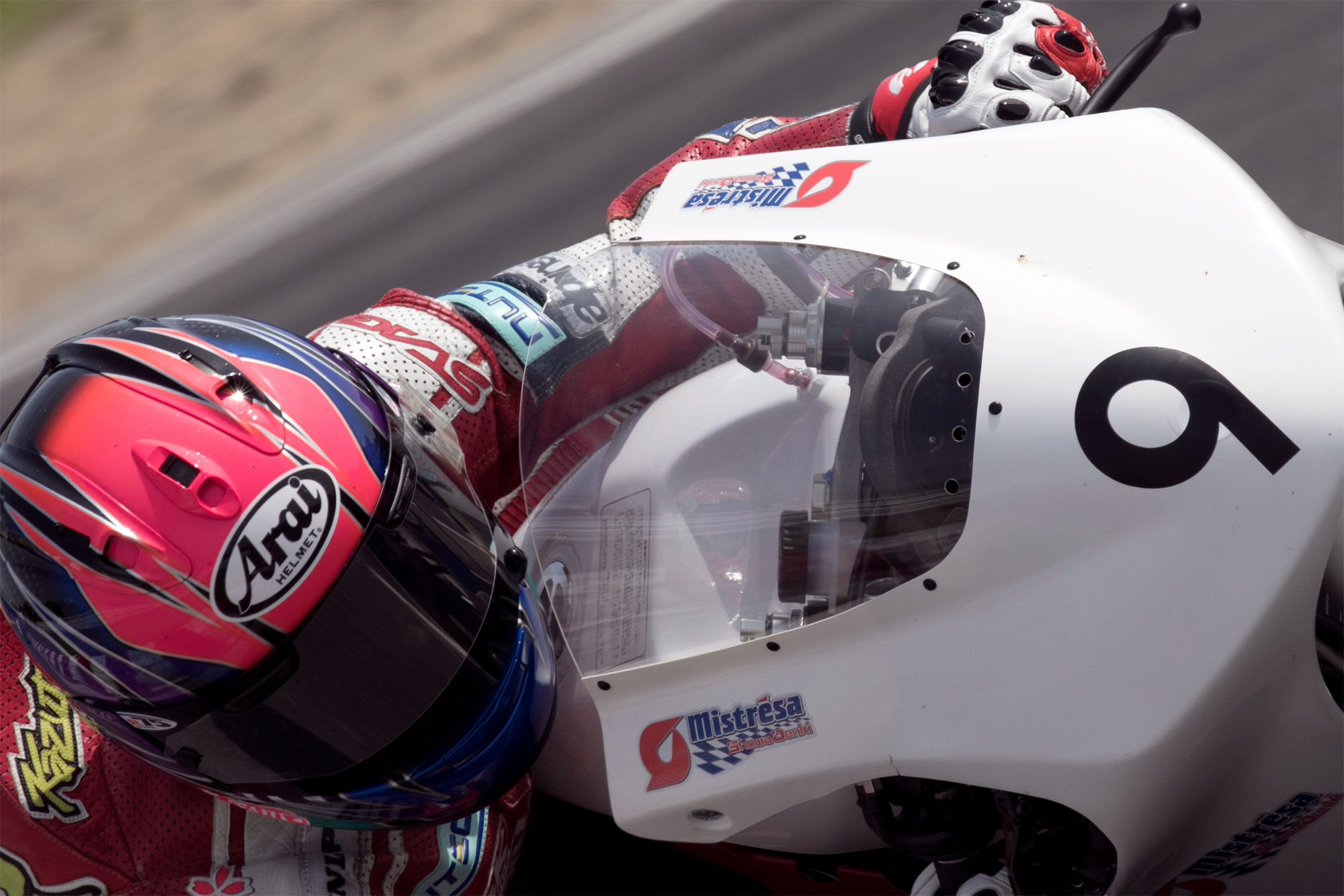 Kazuto SAKATA, who has been focusing on training younger racers at MFJ Roadracing Academy, MuSASHi Scholarship Training and others, is now preparing for the 5th round in the All Japan Road Race Championship.
His goals for this round began from strong feelings among those in his environment "to show to the children of the next generation my race from the top of the world." The person at the center of this project is Sakata's personal manager, Hiroki WAKAMATSU. A junior from Sakata's high school, Wakamatsu was previously an All-Japan GP125 class racer.
Even after going to the All-Japan Games and WGP (now: MotoGP), I got the chance to see Mr. Sakata's fight while at his side. Even now, although he is plenty fast during training, fighting to the utmost limits during a race is another thing on its own. It is concentrating on a race, using time that is limited, and when all is said and done bargaining and running. Thinking about various situations, I think in our race, the time is now. I have a strong feeling that "Right now, if we do not do this project with this timing, we will not be able to show the children of the next generation anything." This time, thanks to the cooperation of Showa Denki, Mr. Sakata's race participation has been realized.
-Personal manager Hiroki Wakamatsu
I am very happy to receive support and cooperation from Showa Denki and all of you. It has been 19 years since I left the WGP. To be honest, I cannot know how far I can go now unless I try. I fully understand that reality is not as sweet as the expectations of those around me. The real start was the Tsukuba Circuit on March 30th. Although I have been practicing since, because I am starting anew from scratch, I have yet to become a machine satisfactory enough for sports driving. The two-cycle racing machines I used and modern 4-stroke machines vary greatly in all respects. Now that I will participate in the race, I want myself to be in a good condition I can accept, but to this day I fumble over how to reach that state. If I am not able to perfect myself with the time I have left, I will give up on racing. It is an intense situation, but I earnestly hope not to waste the opportunity I have received and will put in my best efforts until the very end.
-Racer Kazuto Sakata
This time, Sakata's participation in All-Japan will be fully backed by Showa Denki Co., Ltd., located in Daito City, Osaka Prefecture. The company actively supports motor sports activities and has their own racing team, "Mistresa RT HARC-PRO.," which will participate in the All-Japan Road Race Championship.
At the end of last year, when I heard that Mr. Sakata would be participating in the All-Japan Road Race Championship, I immediately said I would support him. It is truly splendid that we can show the children who will be the next generation a real fighting figure in Mr. Sakata, who once ruled the world. We believe that it is important for us as a company to serve society so that such meaningful things can be realized. I would like for long-ago racing fans as well to take this opportunity and visit the circuit, and feel the wonderfulness and depth of motor sports. I respect Mr. Sakata's intention to cancel his racing appearance if he does not reach a level with which he is satisfied. I am very much looking forward to seeing what kind of fight until the end Mr. Sakata will show us.
-Showa Denki Co., Ltd. CEO Kensaku KASHIWAGI
Showa Denki Co., Ltd.
Established as a repair shop for electric motors in 1950, Showa Denki has been manufacturing all of its parts in-house since its founding. As a manufacturer of environmental improvement equipment from blowers to oil mist collectors, dust collectors, we aim to provide the best service as a "MAKAGORO Company" and respond to our customers' every request, continuing to offer optimal products and delivery times for customers around the world. We have actively supported motor sports activities since 2014.
2014 Mistresa with HARC-PRO./Ryota KOBAYASHI and Sei AKAMA
2015 Mistresa with HARC-PRO./Seguchi TARO and Sei AKAMA
2016 Mistresa with HARC-PRO./Seguchi TARO and Sei AKAMA
2017 Mistresa RT HARC-PRO./Teppei NAGOSHI and Sei AKAMA
2018 Mistresa RT HARC-PRO./Takashi UEHARA and Sei AKAMA
This year we also hired last year's Teppei Nagoshi and Takashi Uehara full-time as "Public relations employees and riders." Although Showa Denki is still a low-profile company, we will continue to work on various activities so more people can become familiar with us.
Profile
Kazuto SAKATA (坂田 和人) born August 15, 1966 in Tokyo
1988 Tsukuba Road Race Championship Novice GP125 1st place champion
1989 All-Japan Road Race Championship Junior GP125 1st place champion
1990 All-Japan Championship International International A-class GP125 1st place champion
1991 Road Race World Championship 13th place
1992 Road Race World Championship 11th place
1993 Road Race World Championship 2nd place
1994 Road Race World Championship World Champion
1995 Road Race World Championship 2nd place
1996 Road Race World Championship 8th place
1997 Road Race World Championship 4th place
1998 Road Race World Championship Second-time World Champion
1999 Road Race World Championship 14th place
*The Road Race World Championship (WGP) was renamed as the MotoGP.
Currently, Sakata works as head of the MFJ Road Race Academy (http://www.mfj.or.jp/user/contents/rdacademy/) and MuSASHi Scholarship (http://634.musashi.co.jp/thought/scholarship/). He is the Sports commentator of the MotoGP/Moto3 class on NIPPON TV G+.
In addition, for this race participation, HARC-PRO. Inc. Limited and General Auto Sports Center are greatly cooperating as sponsors. We thank you.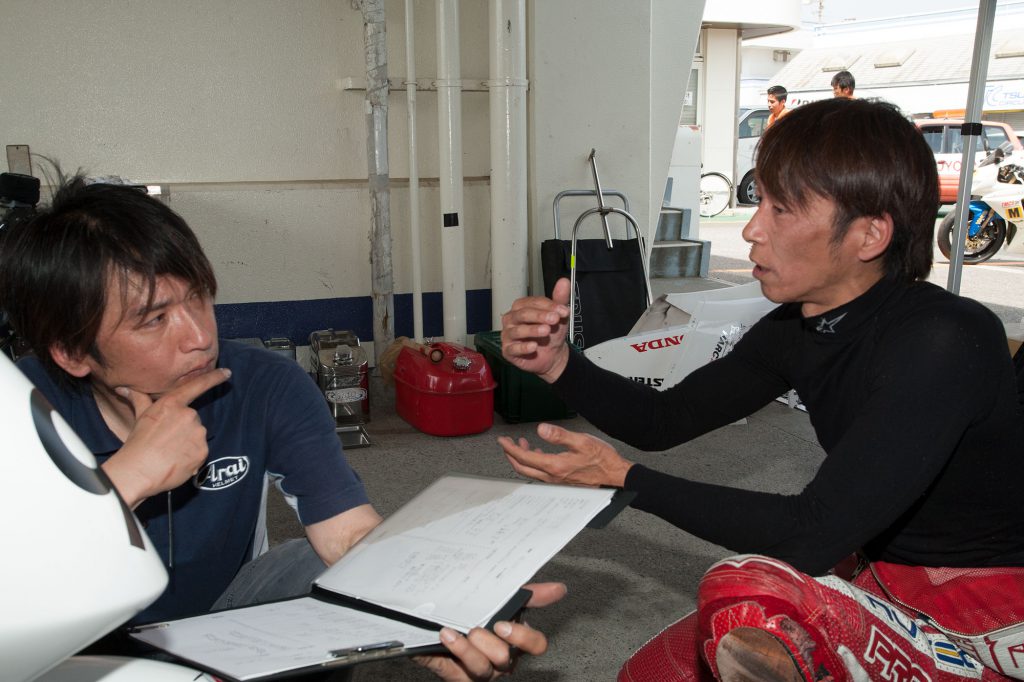 (All photos were taken during tests. Sakata's younger brother Akihiko SAKATA, who ever-presently supported Sakata during his World Grand Prix tours, will be the mechanic.)
【For inquiries about this release】
Showa Denki Co., Ltd.  Sales Promotion Dept. Miyuki YAMASAKI
TEL:072-870-5708 E-MAIL:yamasaki@showadenki.co.jp